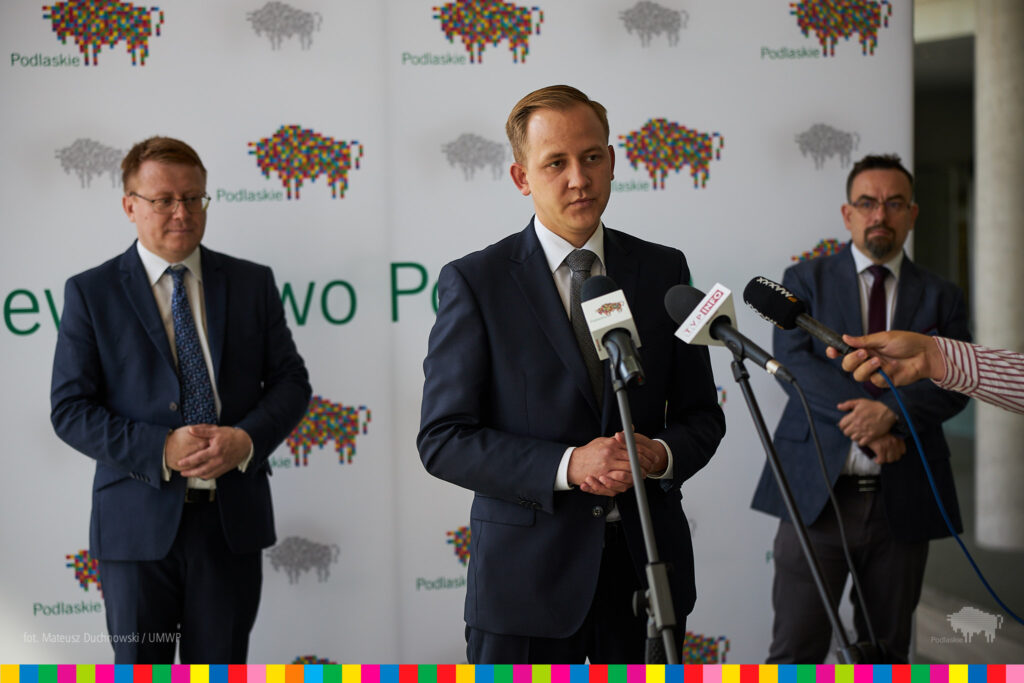 The New Silk Road (NSR), the related Railway for Poland programme, and the role of the Podlaskie region in it were the topics of the press conference, kicking off the economic seminar "Railway for Poland – Railway for Podlaskie" taking place on Monday, June 28. The panellists of the seminar included: Paweł Wnukowski – Podaskie Voivodeship Councillor, Chairman of the Commission for Development, Economy, Infrastructure and Promotion, Mariusz Dąbrowski – Director of Investor Assistance and Economic Promotion Office of Podlaskie Marshal's Office and Teodor Kula – Board Member of Polish Supply Management Leaders.
The New Silk Road aims to deepen trade between China and Europe using sea and rail transport. Being the gateway for goods entering the European Union, Poland and Podlaskie plays a very significant role in rail transport.
Main advantage – geographical location
"Our region has an extremely favourable location. It is here that the Via Carpathia and Via Baltica routes intersect. This is a huge opportunity for us," said Paweł Wnukowski.
Mr. Wnukowski also pointed out that the Voivodeship's self-government has been investing in the modernisation of railway lines for years, thanks to European funds, modernising them to the needs of large-scale freight transport.
"We can become a region associated with the largest logistics centres in Europe, which will translate into the development of the entire region," he stressed.
Growing market needs
The NSR initiative was announced 8 years ago. The pandemic has clogged seaports and airports, and investors started to look for alternatives in the form of rail routes. This is an opportunity for our region.
"More and more businesses and institutions are asking us about the possibilities not only for container transport, but also for e-commerce development, customs and legal services. Global corporations involved in logistics are asking about our region. Market needs are growing much faster than infrastructure capacity. A window has appeared, a big chance for our region and we have to make the best of it, so that the New Silk Road with our participation becomes a fact," said Mariusz Dąbrowski, director of the Office of Investor Assistance and Economic Promotion at Podlaskie Marshal's Office.
Transshipment centre for Europe
In order to play the greatest possible role on the international stage of the New Silk Road, it is important to have a shared, strong, and coordinated position.
"Podlaskie, thanks to its location, proximity of borders and ambitions connected with the plans of infrastructure development, has a great chance to play a significant role in this undertaking, but we must help to use this chance," argued Teodor Kula, member of the board of Polish Supply Management Leaders.
A European transshipment centre in Poland is very real. For the economy, this means dynamic infrastructure development, more jobs and profits for the Treasury.
The seminar "Railway for Poland – railway for Podlaskie" is a joint initiative of the Podlaskie Voivodeship and the Polish Supply Management Leaders, which is another step in strengthening the regions position along the future New Silk Road.