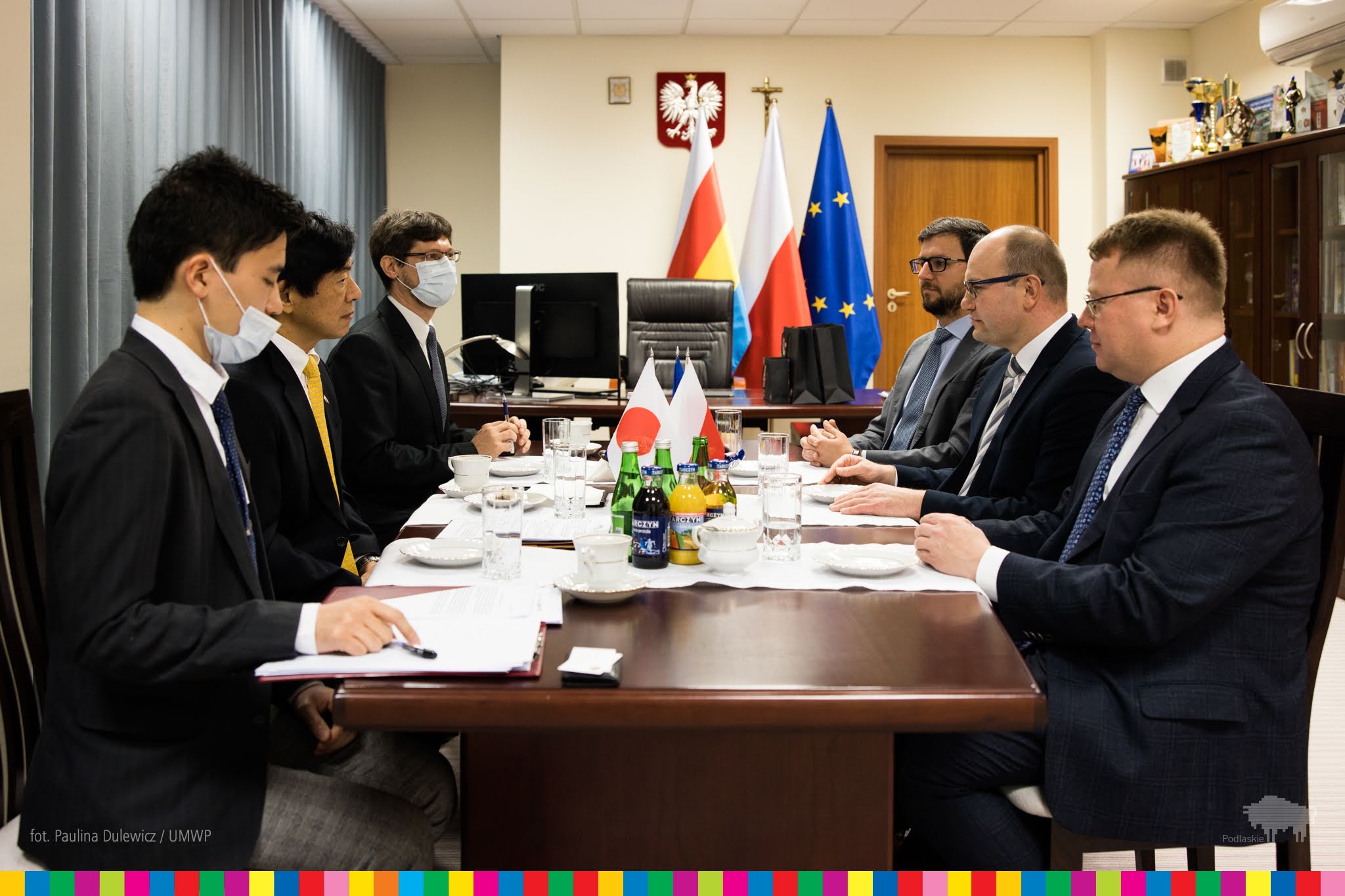 Economic cooperation, situation on the Polish-Belarusian border, achievements of Podlaskie's Olympic athletes in Tokyo – these were the main topics discussed on Monday, 22nd November, at the meeting between Marshal Artur Kosicki with Akio Miyajima, Ambassador of Japan to Poland. The meeting was also attended by Hiroaki Tanaka, the Second Secretary of the Embassy of Japan and Mariusz Dąbrowski, Director of the Investors Assistance and Business Promotion Bureau at the Marshal's Office.
All parties of the meeting were mainly interested in Podlaskie's economic development and Polish-Japanese trade cooperation. While Japan is one of the biggest foreign investors in Poland, its investments are mainly concentrated west of the Vistula River. Marshal Kosicki encouraged the Japanese side to be more active in eastern Poland, especially since the 2019 free trade agreement between the European Union and Japan, which lifted many barriers to mutual economic cooperation.
– I hope that eastern Poland, and our region in particular, will be of interest to investors from Japan. Podlaskie is becoming increasingly attractive in terms of business, if only due to the international routes emerging here: north-south; east-west – said Artur Kosicki.
Another important topic of discussion was the situation on Polish-Belarusian border, which is at the same time the border between the European Union and the Eurasian Economic Union.
On 18 November, the heads of the Foreign Ministries of the G7 countries, which including Japan, issued a joint statement on Belarus. Japan condemned the use of undocumented migrants by Belarusian authorities and expressed solidarity with Poland, Lithuania and Latvia, who have been targeted by this tactic. The Japanese expressed hope that the border situation would de-escalate and stabilise as soon as possible.
Marshal Kosicki assured that Poland was making every effort to ensure that all people at the border were properly cared for.
– We must guard our borders, but we do not deny due care and attention to those people who found themselves in this tragic situation, he said.
The meeting provided an opportunity to talk about the success of Podlaskie's athletes in Tokyo. Let's recall: medals at the Olympics were won by: Wojciech Nowicki – gold in the hammer throw and Maria Andrejczyk – silver in the javelin throw. And at the Paralympics, Rafał Czuper won the silver medal in table tennis.
As Akio Miyajima stressed, Maria Andrejczyk's wonderful gesture, who donated her medal to charity, was widely publicised in Japan.
– It has aroused great interest in our society. A beautiful gesture by a wonderful sportswoman, said the ambassador.
Following the Tokyo Summer Olympics, the next major event Japan has been awarded to host is the 2025 Osaka World Expo. Organisers predict that 150 countries and 25 international organisations will use the opportunity to appear in Japan's Kansai region. Podlaskie business is also likely to be present in Osaka.
During his visit to the region's capital, the ambassador would also visit the Sybir Memorial Museum. Akio Miyajima claimed that it is a place that is also important for the Japanese. Between 1919 and 1921, around a thousand Poles (mostly children) who were displaced to Siberia, found refuge in Japan.
– Around 800 children and over a hundred elderly people were taken in. They were able to get from deep Russia to Japan, from where they returned by ship to their homeland, he stressed.
One of the highlights of the Japanese Ambassador's visit to Bialystok was lunch with Podlaskie's entrepreneurs. Currently, companies in Podlaskie are increasing their cooperation with Japan, especially in the machinery and food sectors, including Pronar, SaMASZ, Suempol and Łuniewscy Meat Processing. Although cooperation is still relatively low, there will be an opportunity to promote it during the Podlaskie Economic Forum in May 2022, when representatives of Japanese business will come to Bialystok. Marshal Kosicki also invited Ambassador Akio Miyajima to participate in the Forum.