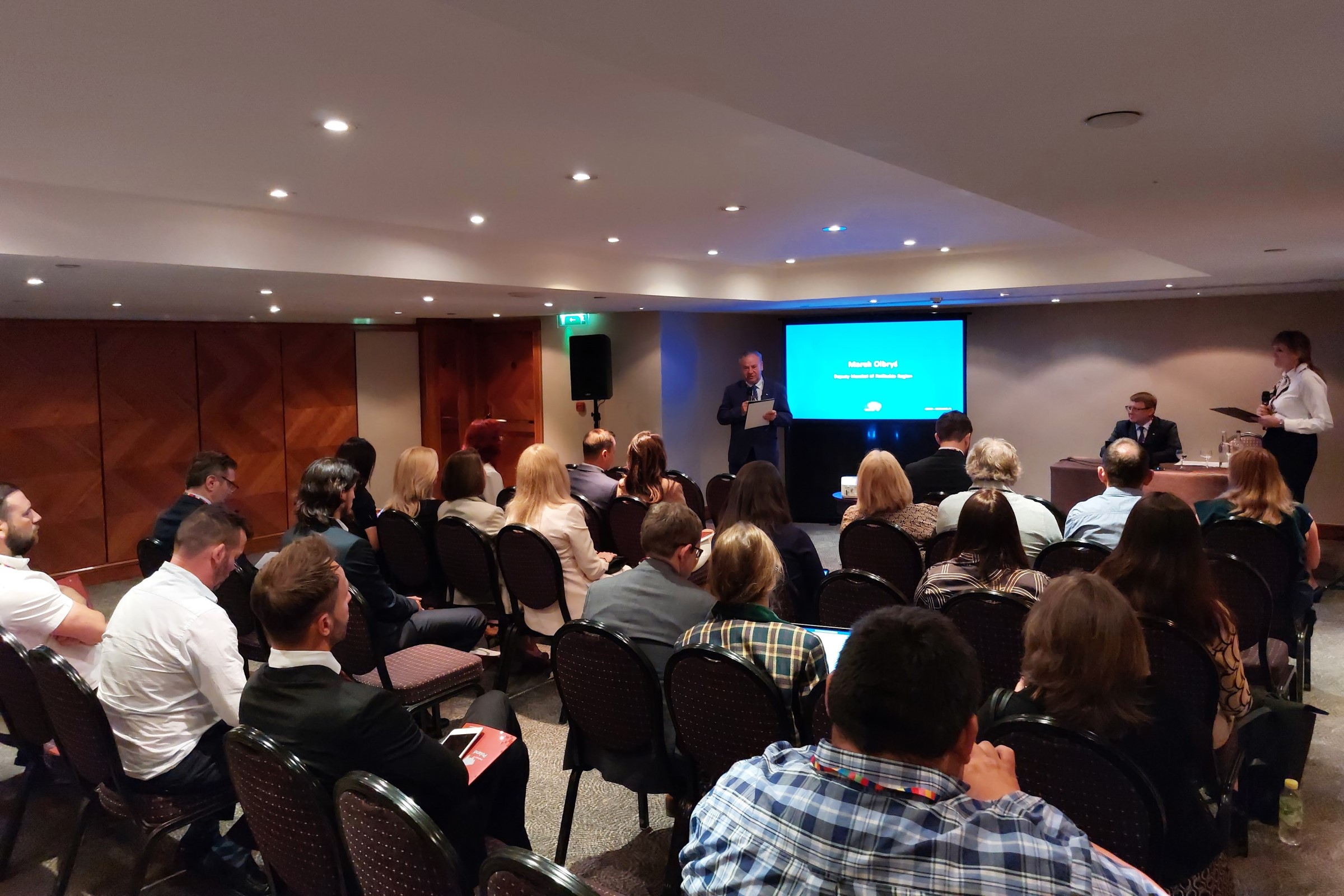 On June 14th-16th , entrepreneurs from the Podlaskie Voivodeship held a series of business meetings as a part of the economic promotion project "Podlaskie. The natural place to do business". The mission was led by Deputy Marshal – Marek Olbryś.
On June 14th , representatives of the Marshal's Office and entrepreneurs from the Podlaskie voivodeship met at the Polish Embassy in London with Deputy Ambassador Agnieszka Kowalska. The main topic of the meeting was Polish-British trade exchange after Brexit and the related opportunities and threats for companies from Podlaskie.
Podlaskie Business Seminar
Podlaskie Business Seminar took place on the second day of the visit to the capital of the United Kingdom. The partner of the event was the Foreign Trade Office of the Polish Investment and Trade Agency in London (PAIH). The seminar was opened by Deputy Marshal Marek Olbryś and the head of the PAIH's trade office, Rafał Owczarek, and was chaired by the director of the Investors Assistance and Business Promotion Bureau of the Marshal's Office, Mariusz Dąbrowski.
– The geopolitical situation in Eastern Europe has made it necessary for regions such as Podlaskie to intensify their operations in the western part of the continent. Western Europe, however, may face problems in the market for food and raw materials because of the war in Ukraine. Both these factors have brought Poland and Britain even closer together. And this seminar serves as a very good example – said Deputy Marshal Olbryś.
The seminar in London was attended by the following Small Businesses from Podlaskie: Antique Parquets, Augustow Meadery, BioPlant Natura, Bisontes Group, Brand Distribution Group, Kinga confectionery, EkoAronia and PHZ Kasol. Their presentations were followed up by B2B meetings with British and Polish companies.
– Small companies in Podlaskie Voivodeship are better prepared for international expansion. The Marshal's Office has also made great progress in organizing foreign missions. This was evident during the visit to London, which turned out to be a great success. The companies established a lot of new business contacts and learned about the specific nature of the British market – said director Dąbrowski.
Specific features of the British market
On June 16th, the companies from Podlaskie visited the Foreign Trade Office of the Polish Investment and Trade Agency in London, where they met with Polish influencer Aleksandra Fiddler and Tomasz Dyle, director of the GottaBe marketing agency. The meeting concerned the effective sale of Polish products on the British market. PAIH's experts also presented UK's import potential and the related opportunities for enterprises from the Podlaskie voivodeship.
– More and more is said about Polish products in Britain, but the biggest problem is the packaging, which often does not meet customer requirements. This is where the preparations for entering and expanding into the British market should begin – emphasized director Dyl.
Further economic missions are planned in fall of 2022, this time to the Baltic countries and Germany.