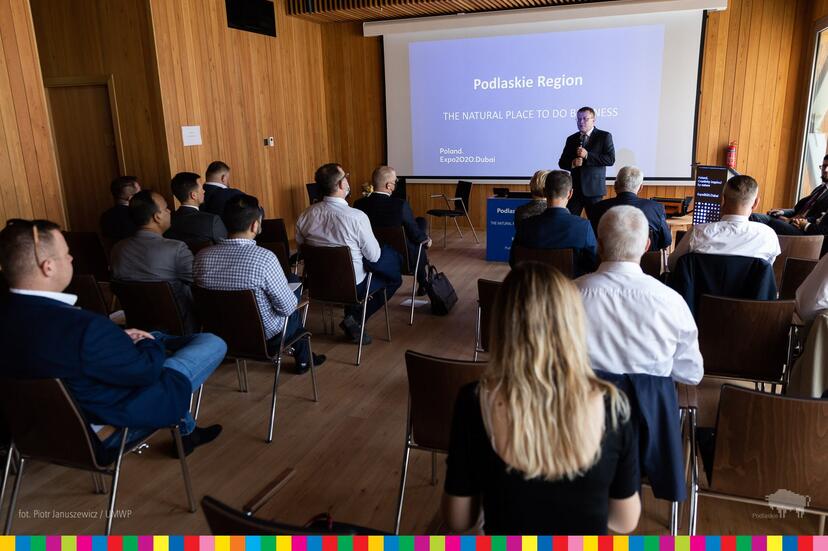 Several dozen entrepreneurs, representatives of business organisations and potential foreign partners took part on Wednesday (20.10) in the business seminar "Podlaskie. The natural place to do business". The event was also attended by Marshal Artur Kosicki, who encouraged the establishment of economic contacts with our companies. The meeting was organised by the Investors Assistance and Business Promotion Bureau at the Podlaskie Voivodeship Marshal's Office as part of the Podlaskie Voivodeship Week taking place during EXPO 2020 in Dubai.
Cooperation opportunity
– First of all, I would like to thank the guests from different parts of the world who came to the Poland Pavilion to establish direct contacts with Podlaskie's entrepreneurs – said Artur Kosicki, Marshal of Podlaskie Voivodeship. –The pandemic has severely restricted meetings, but today's seminar shows that we are slowly beginning to return to normality. International business can finally meet, and in one of the most interesting places on our planet. Marshal Kosicki added that the event is an opportunity to signivicantly broadet the field of international economic cooperation.
Dynamically developing companies
Companies such as TenderHut, Mlekovita, Edpol, Pronar, the Metalworking Cluster and even the family-run Four Starlings Soapmakers presented their operations to partners from the United Arab Emirates, Lebanon, Iraq, Iran and Ethiopia.
Robert Strzelecki, President of TenderHut SA – one of the fastest growing IT companies in Poland – emphasised that the company already has nine offices in the country and employs over 500 specialists.
– We are focused on the markets of Eastern and Northern Europe, but also the USA, China and the Middle East ," said Strzelecki.
Podlaskie's giants
The event also included presentations from the largest and best known companies from the region – Mlekovita and Pronar.
Pronar's representatives – Radosław Bielecki, international sales director, and Michał Korch, OEM Sales Manager, discussed topics related to technological innovations in the production of recycling machines, wheels and rims, and agricultural machinery. These are the areas in which Pronar is not only a national leader, but also a globally recognized brand.
Malow, based in Suwałki, is also among the region's largest companies. Roman Kaleta, president of the company's management board, talked about the production of metal furniture for the medical industry, including anti-COVID products such as hand disinfection stands.
Focus on ecology and nature
– Our company manufactures natural cosmetics, using Zero Waste packaging – said Grzegorz Sienkiewicz, the managing director of Four Starlings Soapmapers – a family company from Białystok. Today the company already employs 50 people and is expanding its products to new stores.
– We have established cooperation with large retail chains, such as Rossmann ," emphasised the company's representative.
Dubai – the business hub
Why meet in Dubai?
– Just as Podlaskie is the centre of Europe, Dubai is the central point between many countries from Europe, the Middle East, Asia and Africa. It is a hub of international trade with an exceptionally business-friendly environment , said Paul Boots and Sapna Sharma of Dubai Global Connect – a project developed by the Investment Corporation of Dubai, a powerful wealth fund chaired by Crown Prince Sheikh Hamdan bin Mohammed Al Maktoum.
Dubai Global Connect is still under construction, but it will be an important hub connecting contractors from Europe, the Middle East, India and East Africa. It focuses on three areas of trade: food, fashion and home furnishings (mainly furniture). The project is intended to make it easier for companies to expand into new markets, especially those outside Europe.
Once the presentations were completed, there was time for direct business meetings and establishing business contacts.
The Voivodeship's local government was also represented during the meeting with entrepreneurs, including the Chairman of the regional assembly Bogusław Dębski and Board Member Wiesława Burnos.
Entrepreneurs' opinions: Why is it worth to take part in events such as the ecoonomic seminar in Dubai?
Roman Kaleta (Malow):
–It's a venture that fits into our strategy of becoming the largest company in Europe. Therefore, the largest company must have a very large turnover and Europe is starting to be slightly too small for us. We are looking into other markets, including this part of Asia. Dubai appears to be a growth destination. We, as a metal furniture manufacturer, do not set out to build a warehouse somewhere here and store furniture, because that would be too expensive. We are interested in projects, such as equipping hospitals or schools. And this is where we see an opportunity for cooperation. We presented ourselves to the guests of the seminar, showed them what we do and how we do it, that we are a modern, growth-oriented company.
Tomasz Kozłowski (Polish Construction Cluster):
–  Above all, it's the business contacts, which are perhaps the most important part of economic activity of any entrepreneur. But such events also provide an opportunity to present and showcase new products that are entering the market, products that are marketable and that are really at a very high level.
Grzegorz Sienkiewicz (Four Starlings Soapmakers):
– This trip creates a whole range of opportunities. On the one hand, confronting the international market in the Middle East, on the other, the opportunity to get to know our entrepreneurs and local authorities in order to make ourselves known to those who are actually responsible for the promotion and development of our region on the international stage. We, as a company, are still too small to participate in international fairs, and the missions and the opportunity to participate in such events give us a chance to make our offer known to all visitors, especially those who come to our Polish Pavilion in Dubai.